Beaches as Spaces of Democracy
(see also Stanford's . . . & the West Blog Publication, Center Hosts Women Surfers)
What does access mean, for whom, and how are issues of access feminist issues?  The Institute for Women Surfers devoted its October training event to impacts of race, gender, and indigeneity on beach and surf accessibility, bringing together activists, non-profit directors, scientists, educators, elected officials, entrepreneurs, and artists and filmmakers.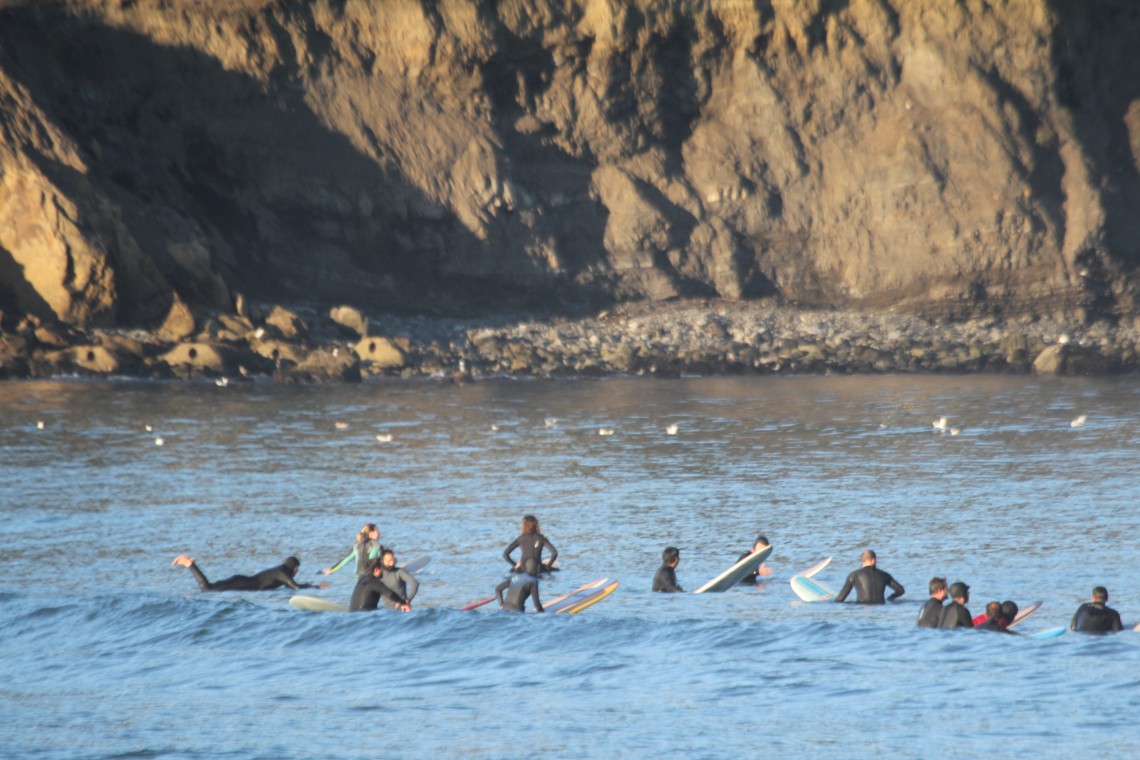 Directed by Professor Krista Comer (a Visiting Scholar at Stanford University's Lane Center of the American West) in collaboration with a hands-on Steering Committee, the Institute for Women Surfers is a public humanities project dedicated to grassroots political education. The topic of the 2017 Institute, "Issues of Access," grew out of discussions between activists focused broadly on problems of cultural access women and girls face in everyday surf and beach spaces, and activists working on the Committee for Equity in Women's Surfing, a campaign brought to the California Coastal Commission for women big wave surfers' inclusion in the legendary Mavericks surf competition in Half Moon Bay.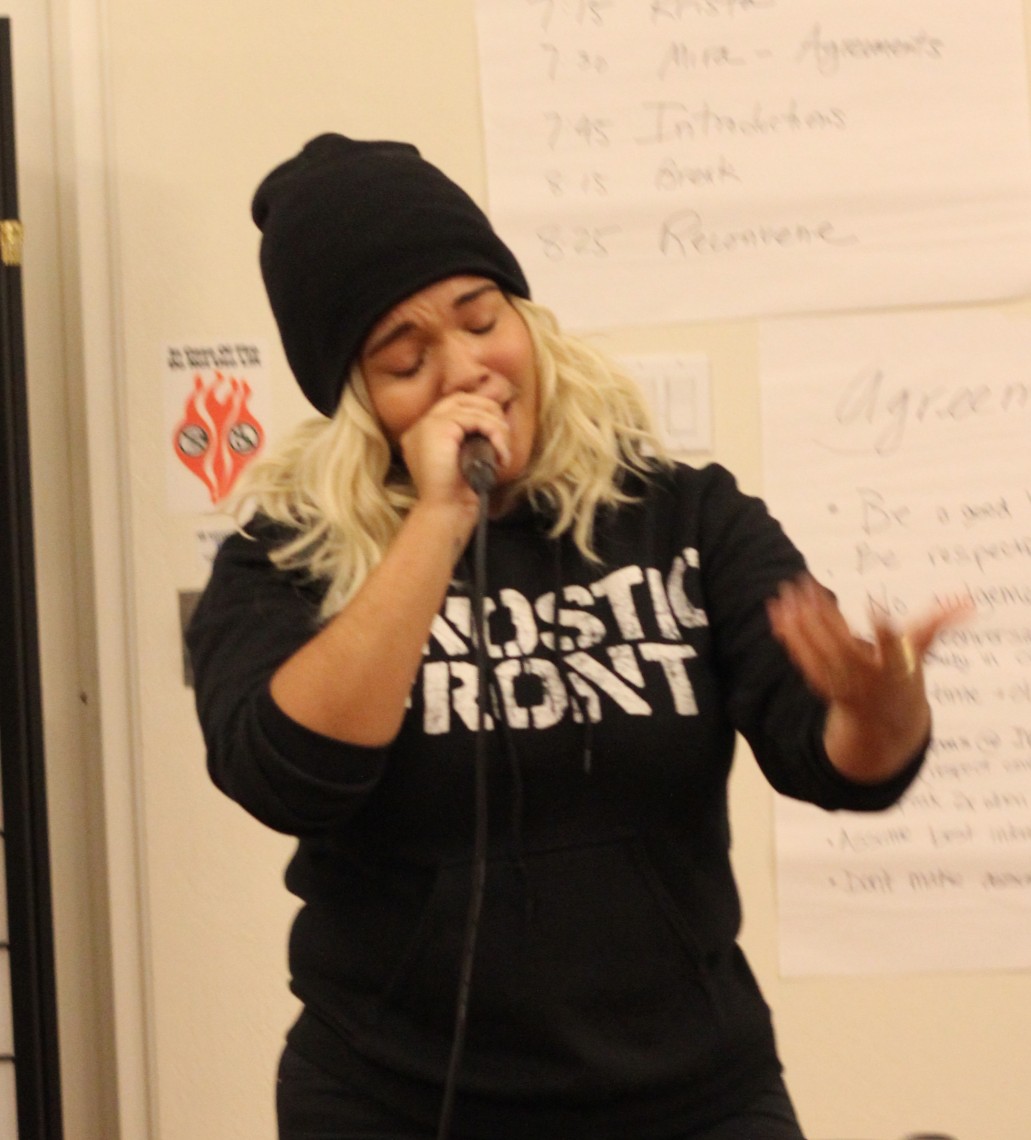 Over an intensive three days of group surfing, music-making, informal discussions, prepared workshops, and "skill-share" short presentations, an international group of thirty-five participants addressed access as both a practical policy concern and also an imaginative and conceptual point of departure.The idea was for people to teach each other what they know, identify shared problems and successes in addressing them, and cultivate relationships that endure. IWS prioritizes relationships, alliances, and building skills conducive to long term feminist mobilizing.
Research Findings in brief
#1 Patterns of Hostility — cultural access and barriers to it,
#2 Environmental practices and marine sciences,
#3 International perspectives related to access.
Follow up: Additionally, two projects were slated for immediate follow up: one is a local investigation by Institute activists and researchers into the politics of permits and permit fees for non-profit surf organizations working at Pacifica State Beach and Manresa State beach; the other is a translocal and transnational proposal for two new Institute chapters, Institute South (Australia) and Institute Europe (Wales).
Weekend Report
Friday, October 6  "Imagination"
Group surf began late Friday afternoon, participants gathering at the IWS flag at Linda Mar Beach in Pacifica, then moving for dinner and opening night to The Little Brown Church, a community gathering place in Pacifica.  
Scholar and Steering Committee member Dina Gilio-Whitaker (Colville Confederated Tribes) opened proceedings with gratitude to the Ohlone peoples whose historic lands present-day Pacifica occupies.  Marley Reynosa of Brown Girl Surf led a round of "Yamaya," known well throughout the Afro-caribbean diaspora as a song honoring Yemoja, the Yoruba water deity and protector of women. Director Comer offered a brief history of the Institute and of public humanities, highlighting concepts of "imagination" and drawing from the Institute's curriculum (excerpts from historian Robin Kelley and rapper Missy Elliott).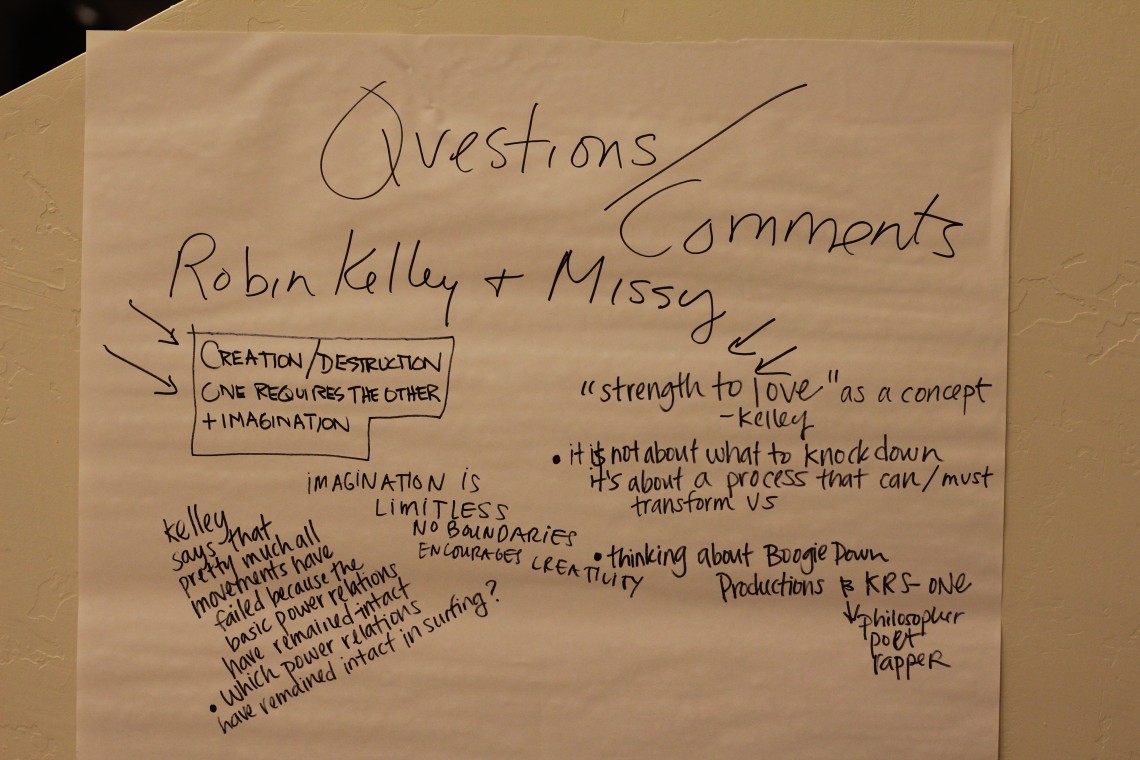 Friday evening's music making was envisioned and facilitated by Mira Manickam-Shirley,  a Steering Committee member and Executive Director of Brown Girl Surf, in collaboration with Brown Girl Surf volunteer Ginger Cuevas, aka the hip hop performer Art3mis Prime. An extended surf feminist cipher (freestyle rap in a communal circle) allowed many to freestyle for the first time while forging new group connections. The evening finished with a finale performance by Art3mis Prime of "Tomb," and "Awake," which brought down the house with a group dance.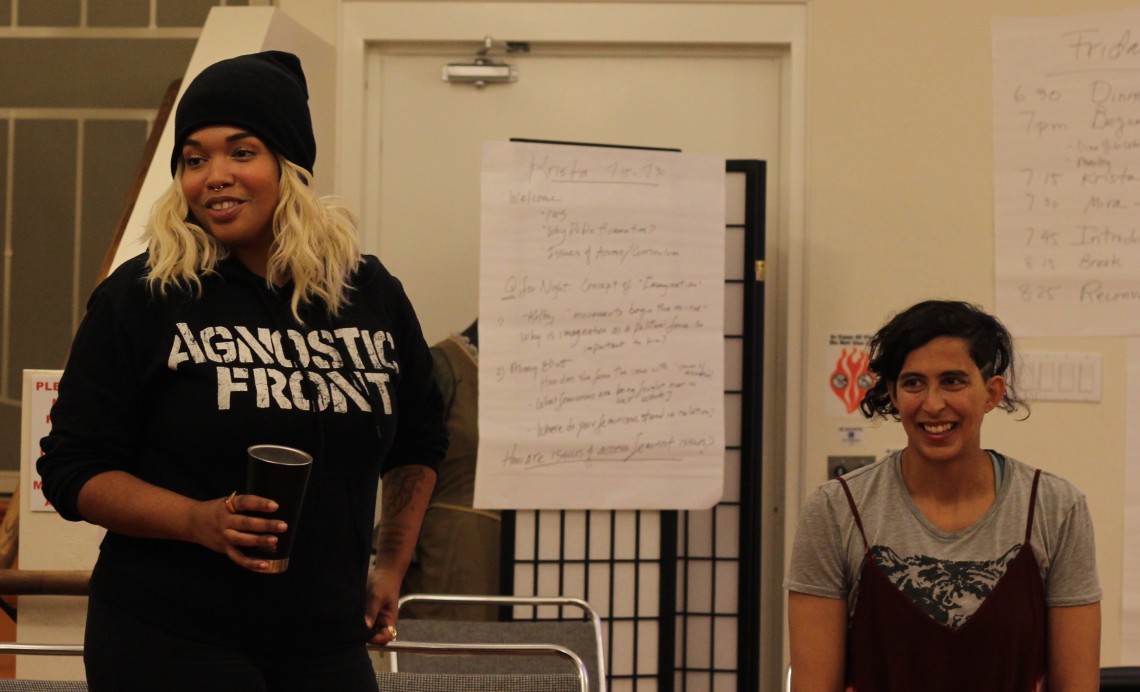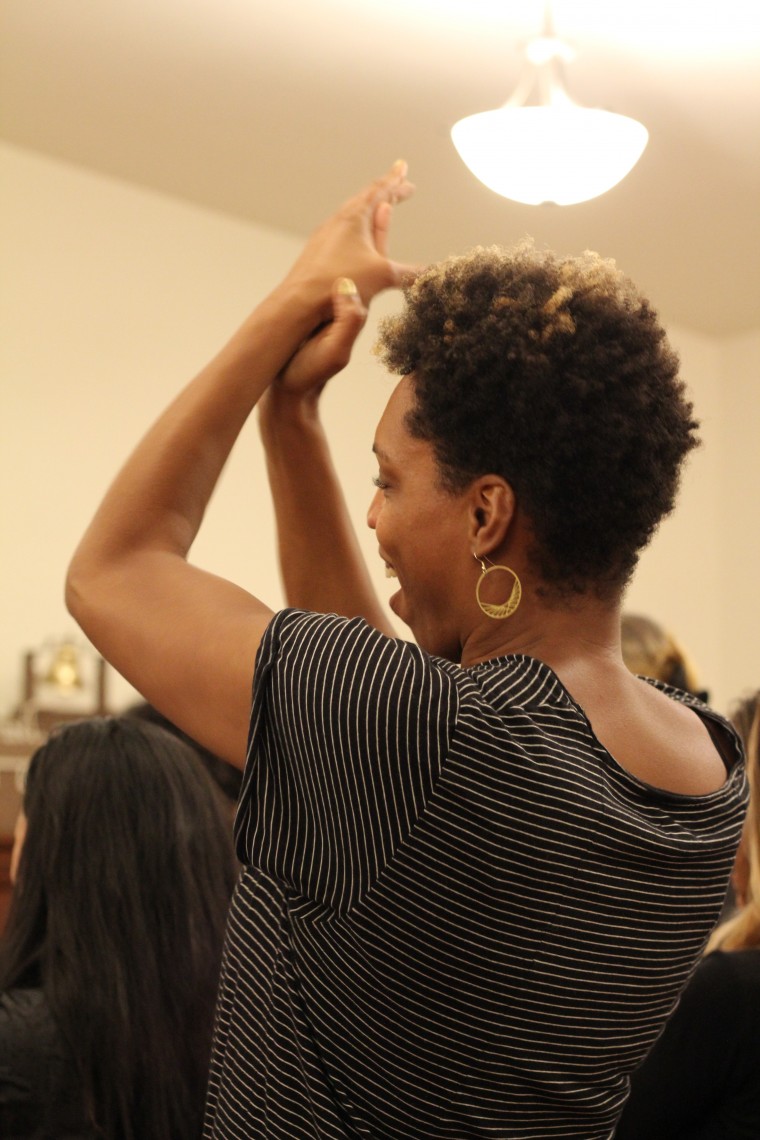 Saturday, October 7 "Building Access/Building a Movement"
Morning Workshop. Saturday morning, in a beautiful Stanford classroom, coming off of morning group surf and the joy of the night before, people were so energized that, to quiet the group enough to commence, someone got a beat going on the cowbell with tambourine accompaniment. The call to order. The morning workshop, "Building Access/Building A Movement," brought three speakers into conversation.
The first, Dina Gilio-Whitaker, reported on her work with the organization Natives Like Water, a youth tribal revitalization non-profit running a summer program through UCSD. Access issues here link youth surfing to sovereign water and place knowledge, and show how Native access issues always involve land claims and are distinct in legal logic from civil rights issues.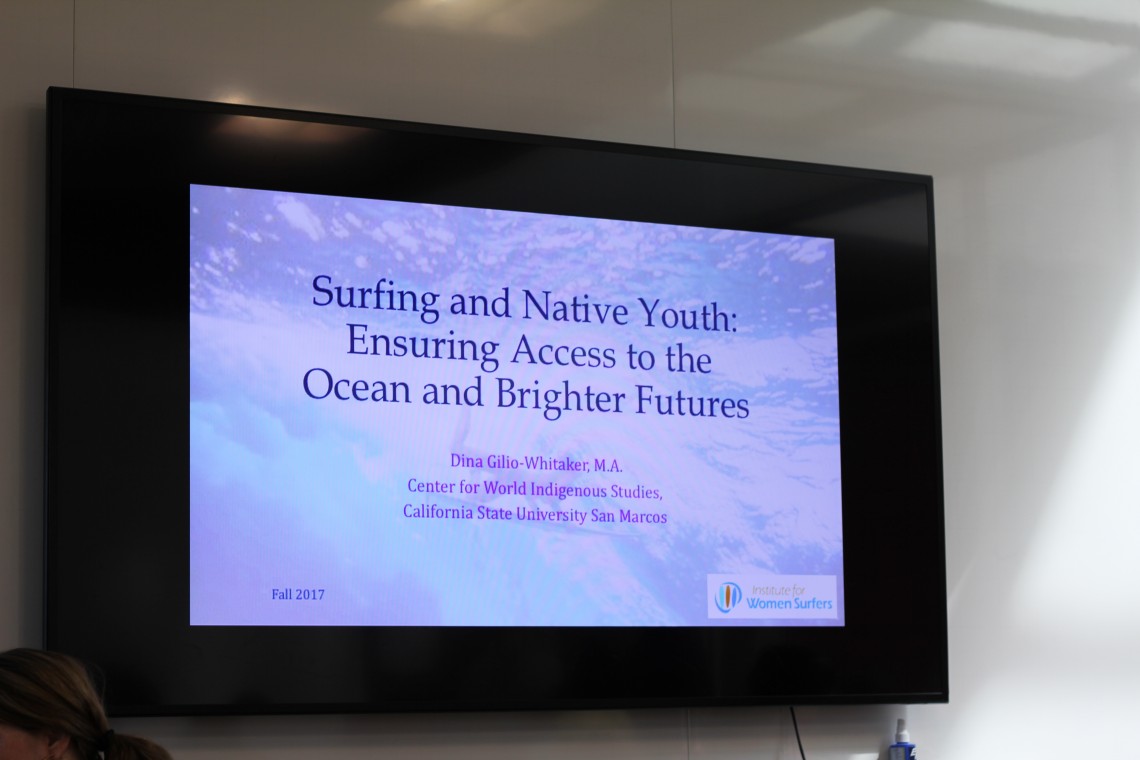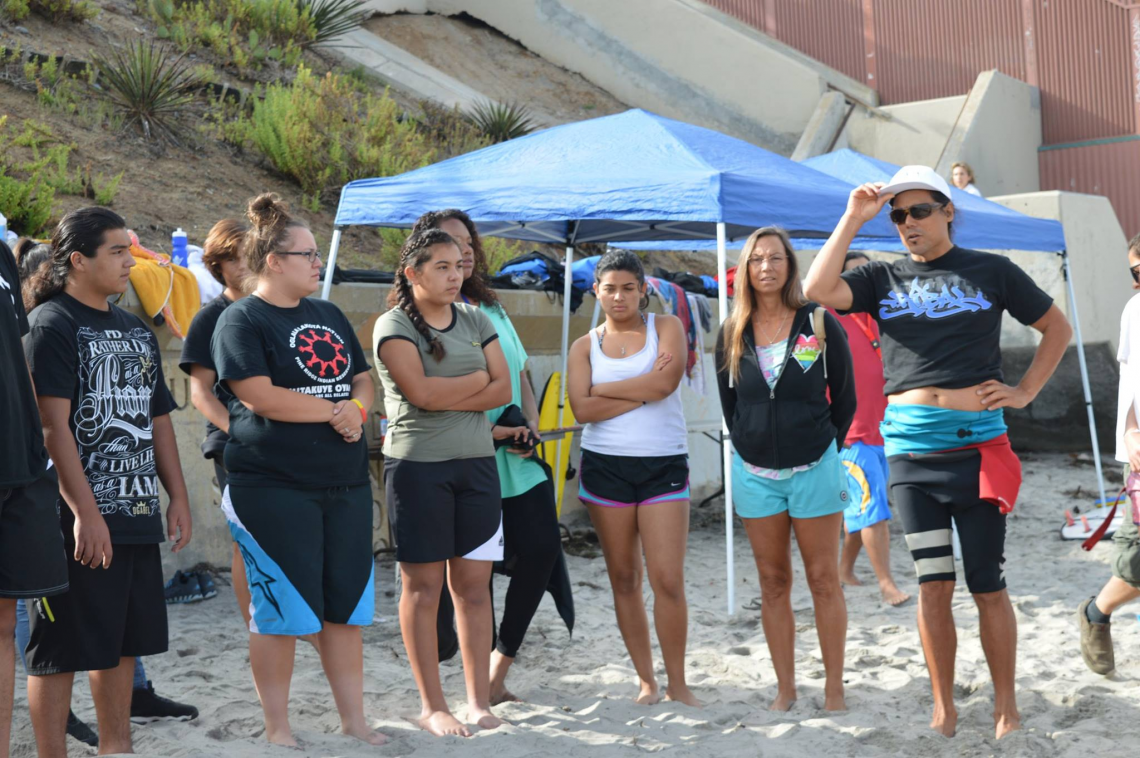 Next up was a Brown Girl Surf Speak Out – a witnessing event by volunteers and instructors at the Oakland based non-profit that combines community and movement building, conservation, and surfing for women and girls of color. Though speakers noted obstacles to beach/surf access related to equipment and water safety, equally insidious access issues lay in the realm of imagination. Before finding one another through the worlds Brown Girl Surf has created, participants who grew up near water (in Puerto Rico, the Dominican Republic, as well as in San Francisco and Oakland) could not fathom that surfing was something they would do — popular culture and surf media's continual representations of surfers as overwhelmingly blonde dominates world imagination.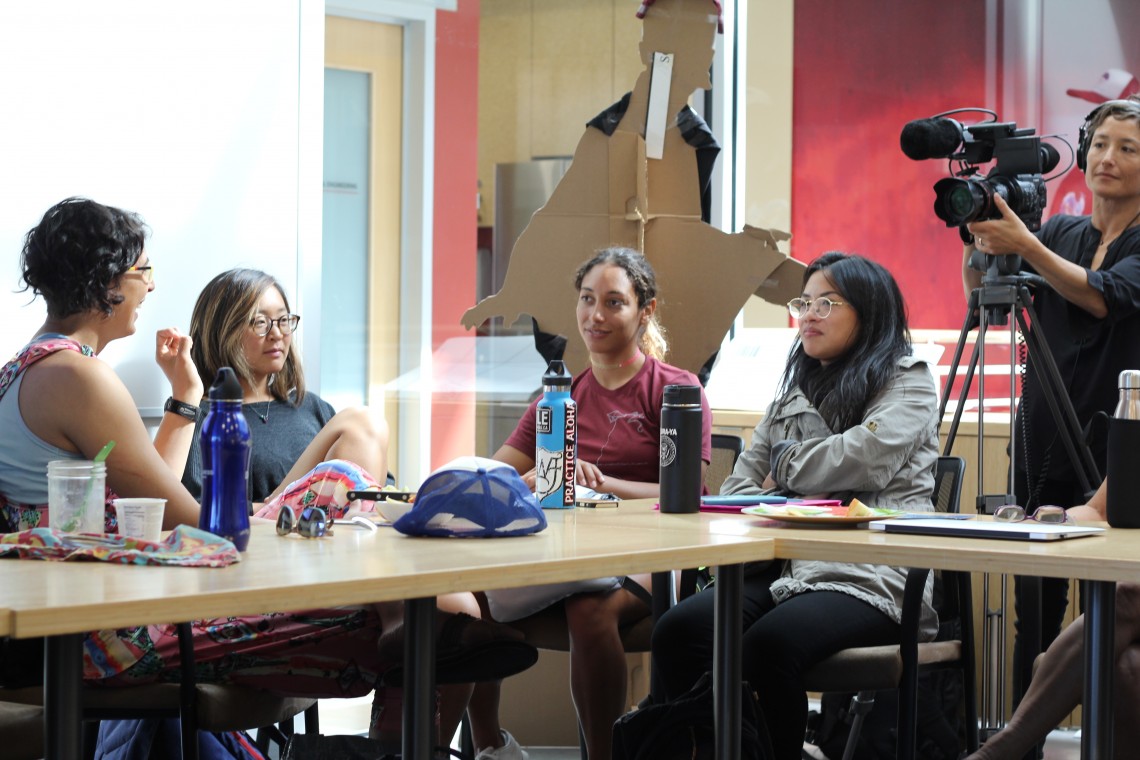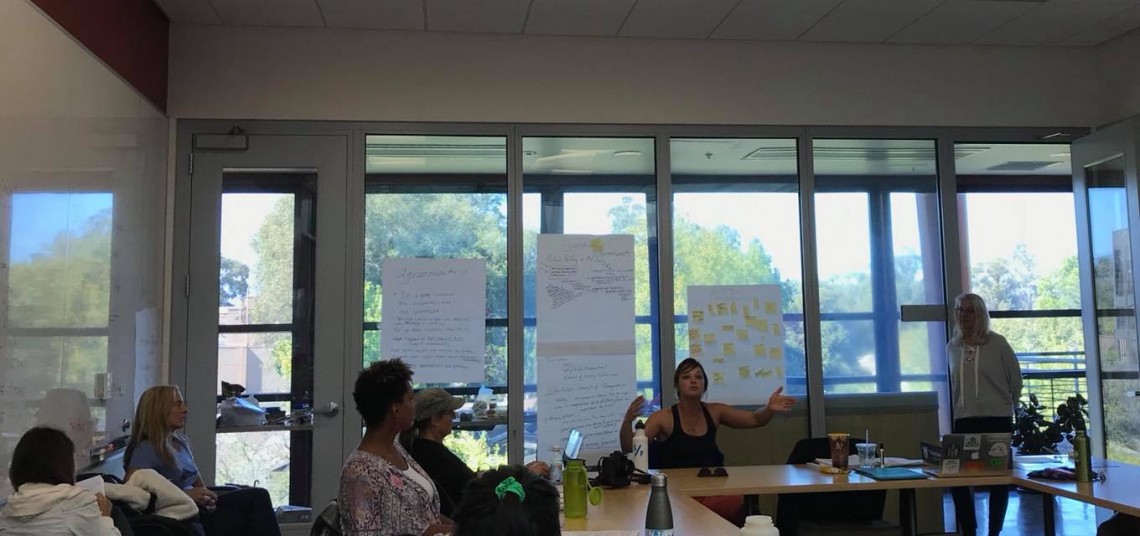 The last speaker in "Building Access," Bianca Valenti, the big wave professional surfer, reported on the sexist bullying she faced being on surfing's very hot seat as the woman who challenged Mavericks contest-promoters  to sponsor a woman's heat. Bianca's work along with that of allies in the Committee for Equity in Women's Surfing utilized the Coastal Development Permit (CDP) process to successfully urge the California Coastal Commission to ensure equity of gender access to the Mavericks contest.
Afternoon Workshop. The Saturday afternoon "Affinity Group" workshop netted practical insights about larger hostile patterns of sexism, racist sexism, and racism.  We identified disturbing behavioral similarities, across multiple surf locations, by autonomously operating commercial ventures. What had been reported as more individual problems in the morning sessions came into focus as features of broader social battles over the beaches as spaces of public culture.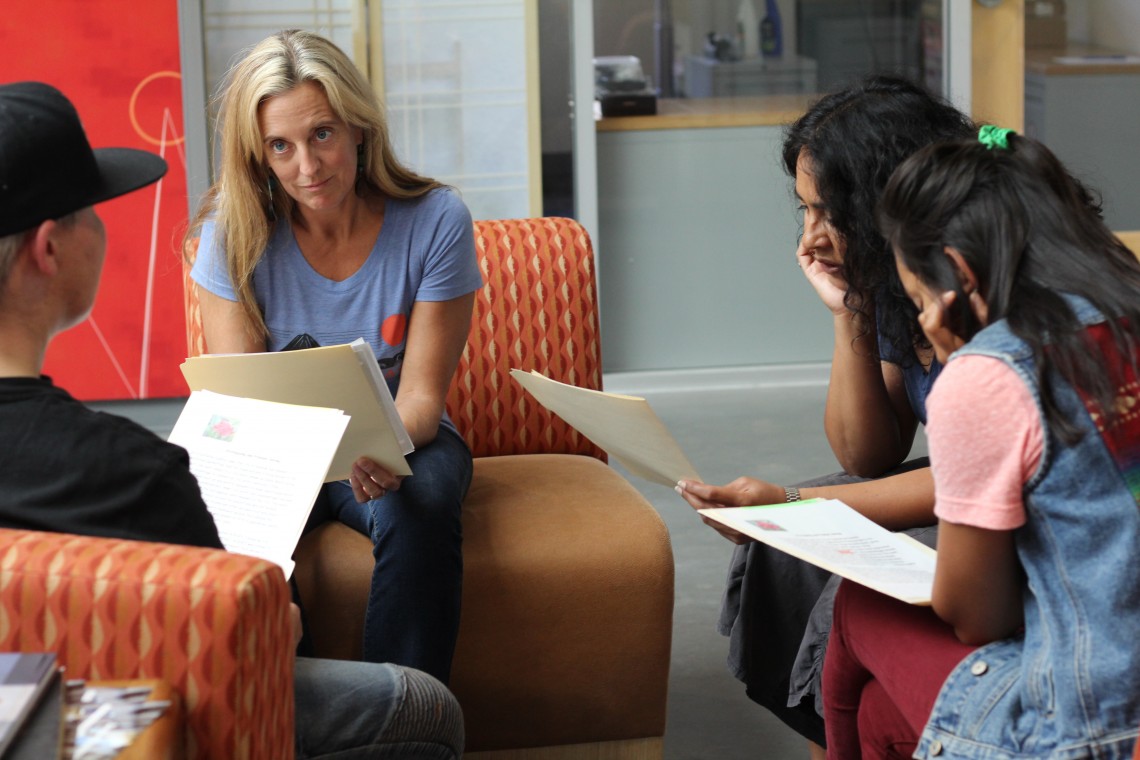 Distilled through an effectively conceived small-group exercise invented by Dionne Ybarra, a Steering Committee member and Director of the the Wahine Project working hand in hand with Gilio-Whitaker, Institute participants took part in a three-step process. First, participants gathered in groups of constituents according to field (media, educators, scientists, entrepreneurs, non-profit directors, artists). The task was to determine group strengths and strategies for addressing broad social problems.  Next constituent groups were remixed and  integrated into "affinity" groups who were tasked with a specific theoretical local problem. Each affinity group had a constituent from each constituency.  The final step involved a think aloud where each affinity group reported back about its plan to organize around the local problem.   
At the conclusion of this theoretical discussion, participants learned of a specific real-time problem (see below) and devised real-time strategies to address it.  
At Manresa State Beach, in 2015, Ybarra reports being on a camping trip with eight girls when a long time commercial vendor accosted her, demanding information about her business, what campers paid, and yelling at her that "you don't belong," and "I am the only one who can do business" at Manresa. In 2016, the same business owner hounded one of Ybarra's young adult surf instructors, threatening to "call the State Parks on you." The instructor stood up to him and later wrote a negative review about the business on Yelp, which she removed after he called Ybarra to complain.  Ybarra has been in consultation since 2015 with the Coastal Commission and the State Parks to establish permit fees as they relate to non-profits.  Before altercations with the vendor began, no permit had been required. The process has shown inconsistencies and confusion in non-profit permitting policy.
In the interim, Ybarra and the team of Institute researchers working with her, are investigating whether, or why the other business is given exclusive permission to use a State Park facility?  
Related:  City Surf Project, bringing San Francisco youth of color to Pacifica Beach to surf, reports challenges to submitting bids for the limited permits distributed to surf vendors at Pacifica.  They wonder how an annual lottery for permit distribution in Pacifica has come to function as  exclusive rights for the same four surf schools every year?
Brown Girl Surf did not report overt harassment but noted the chilling and discouraging effects of others' histories. Not wanting to attract unwanted negative attention to the women and girls they bring to the beach, Brown Girl Surf has opted instead to surf less desirable spots where no one chases them away. They reorganized their curriculum even though the altered schedule compromises all concerned.
How shall these kinds of "ripple effects" of bullying be translated into policy recommendations?
We established Institute research clusters to take up specific investigative agendas.
Research Finding #1 Patterns of Hostility
The recent UCLA Coastal Access Report notes that barriers to beach access show specific class, racial, and geographic profiles. The report supports the work of culture change groups, groups on the ground who are creating new cultures of coastal access. The Institute expands the profiles prioritized in the UCLA Report so they grapple explicitly with gender as barriers to coastal access. Feminist advocacy emphasizes: the challenges of girls and women surfers; the importance of women-centered organizations; and the women who run them as models for what access means and does. Feminist access necessitates the formation of alliances, and the creation of bonds between women and the many communities to which women belong, particularly communities of color.
Institute participants and Steering Committee members are key players in culture change groups including Natives Like Water, Brown Girl Surf, the Wahine Project/El Proyecto de Wahine, City Surf Project, Salud y Cariño, and Black Girls Surf. These programs function on the frontlines of cultural spaces where access cannot be taken for granted and must be forged. When directors, staff, and volunteers offer evidence as everyday experts about access and its workings, the most commonly mentioned first-round problem relates to "belonging," a sense that even when growing up near water, participants cannot fathom they might surf or be waterwomen until they encounter activist organizations. It is there that the work of re-imagination of self and community occurs. A glance at 50 years of global surf media and beach and swim culture, not to mention the legacies of segregation and indigenous displacement, shows that world belongs to white settlers, mainly men.
If defining belonging is complicated, defining "not belonging" is less so. Simply: you don't see yourself represented as "part of." Experiences of erasure, bullying, othering, hate speech, and sexual objectification reinforce exclusion. They intertwine and become difficult to separate.
"Skill Shares"
Participants presented "skill shares" — contributions of a skill or project  —  which provided additional evidence about the varieties of patterns of intimidation and problems of access to beach and surf spaces.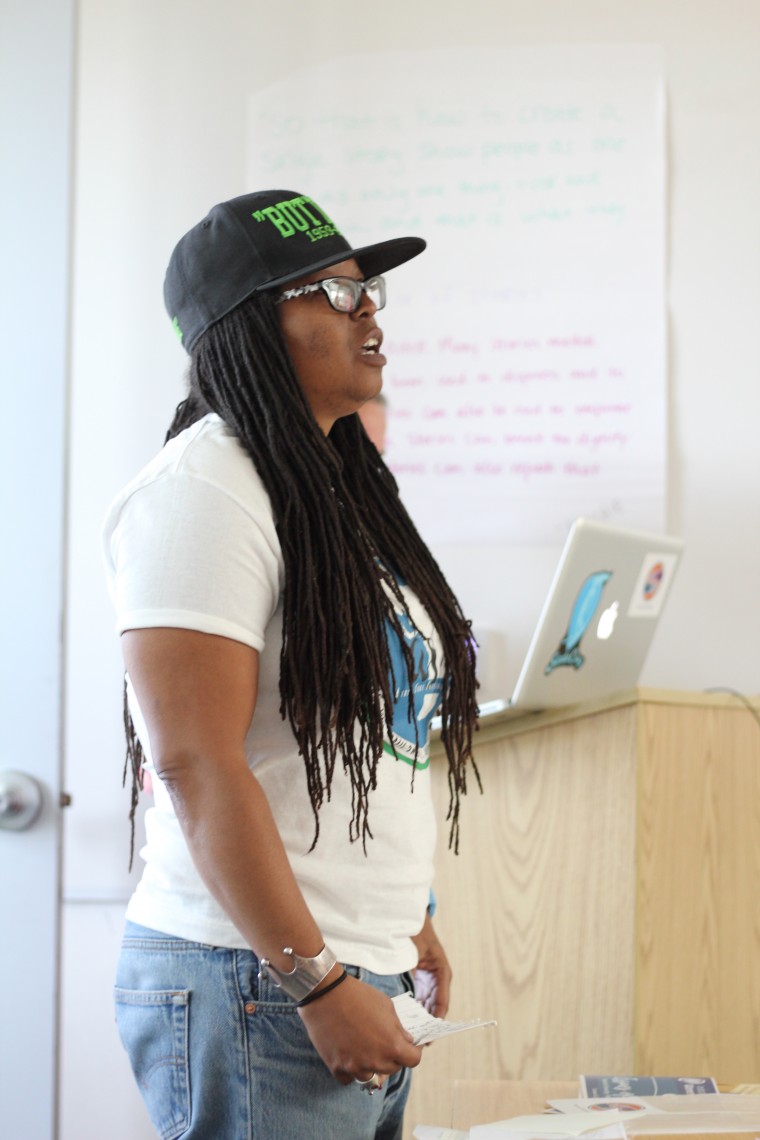 The entrepreneur and surf promoter Rhonda Harper (founder of Black Girls Surf, the Inkwell Lifestyle Brand, and the visionary Africa Surf International) spoke to a long history of bald anti-black racist harassment in the water, on the beach, and in surf industry.  As a major promoter and talent, Harper's legacy for surf history is hugely under-recognized.
Cassie Comley, a sociology PhD student at University of Oregon, shared research findings related to Mexican American surfers in southern California who use surfing to navigate complicated racial, class, and familial expectations even as they engage the whiteness of surfing, the idea that "Mexicans don't surf," and fight against it to create spaces for their own belonging.
Olivia VanDamme, the Operations Manager for City Surf Project San Francisco, approached access through the psychology of healing sociocultural trauma (impacts of living with oppression and structural violence). She laid out the importance of awareness of trauma for youth workers who may observe indicators of PTS in the youth they serve. See here for look at her project "Taking Back Our Wings."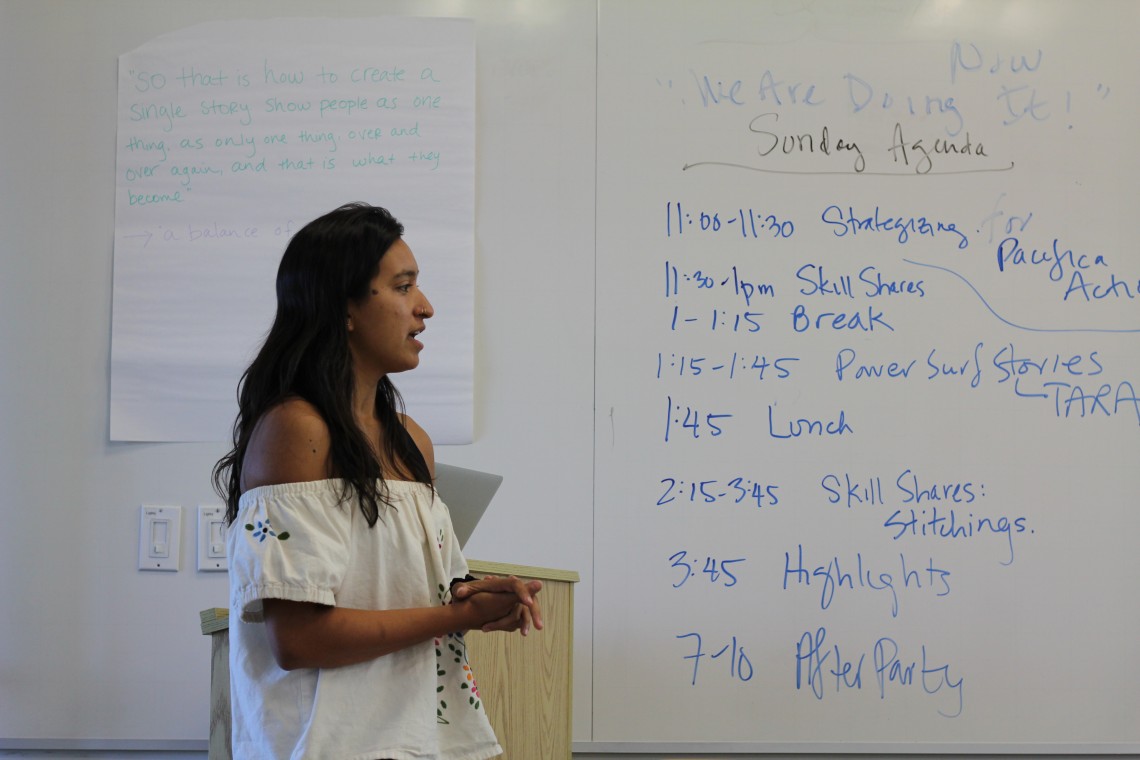 Tara Ruttenberg, founder of Tarantula Surf, and a PhD candidate in development studies based in Costa Rica, utilized the Chimamanda Adichie TedX Talk, "The Danger of a Single Story," to tell a tale of her own about sexism and fear of assault in a line up in El Salvador.  She invited other women to contribute surf narratives to her volume Women's Surf Stories.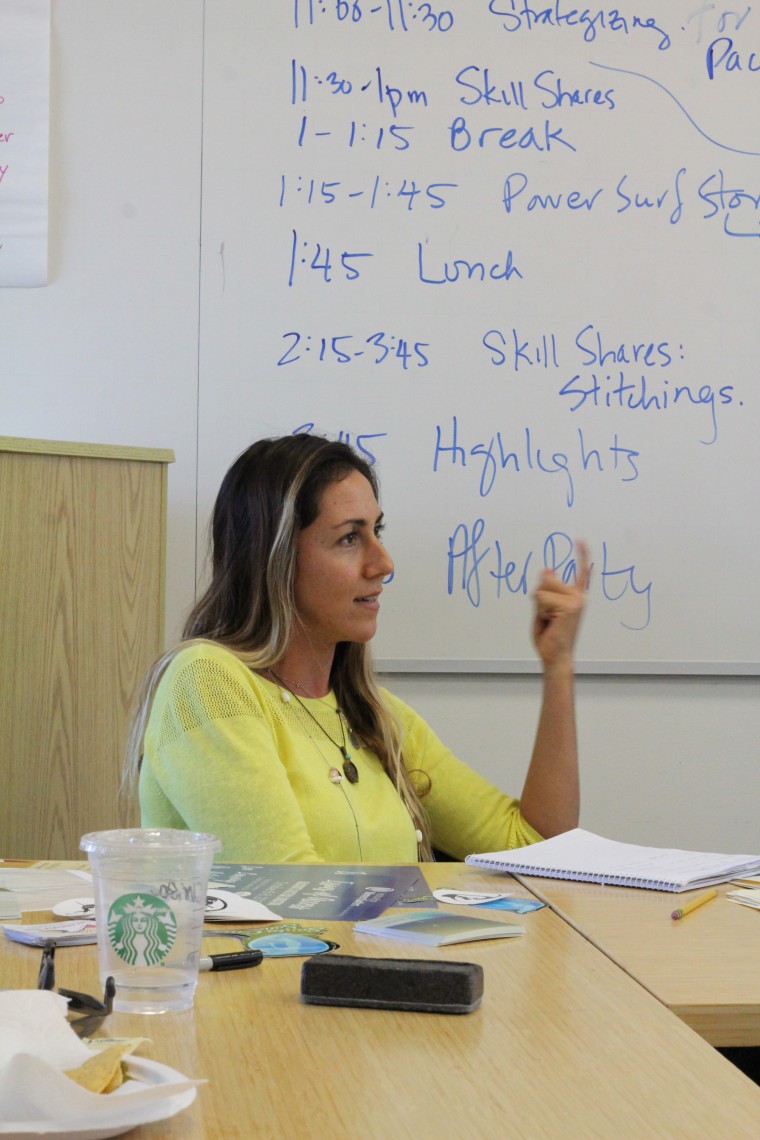 Elizabeth Pepin Silva, the photographer and filmmaker, surveyed some of the body of her extensive work in visual culture, beginning in the 1990s with her classic Waterwomen Series in black and white, to show how issues of visuality have been at the center of issues of accessibilty, given the persistent decisions of surf magazines, film, and media to represent women surfers through hypersexualized bodies in bikinis.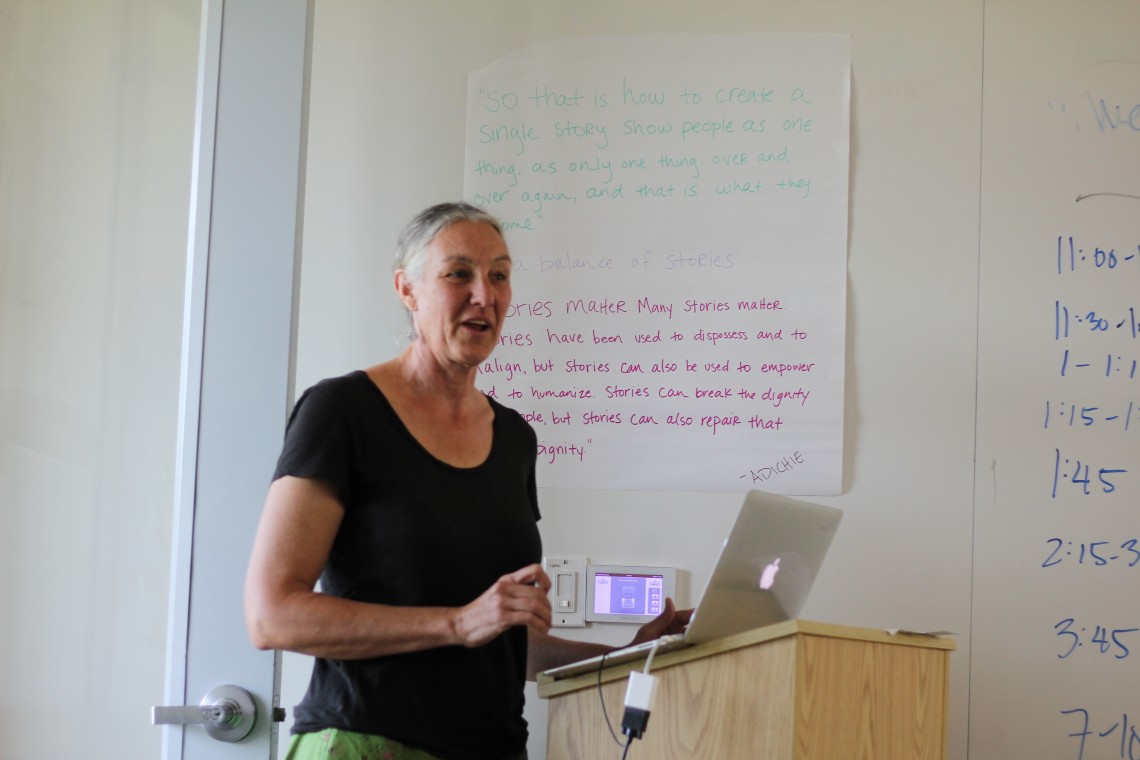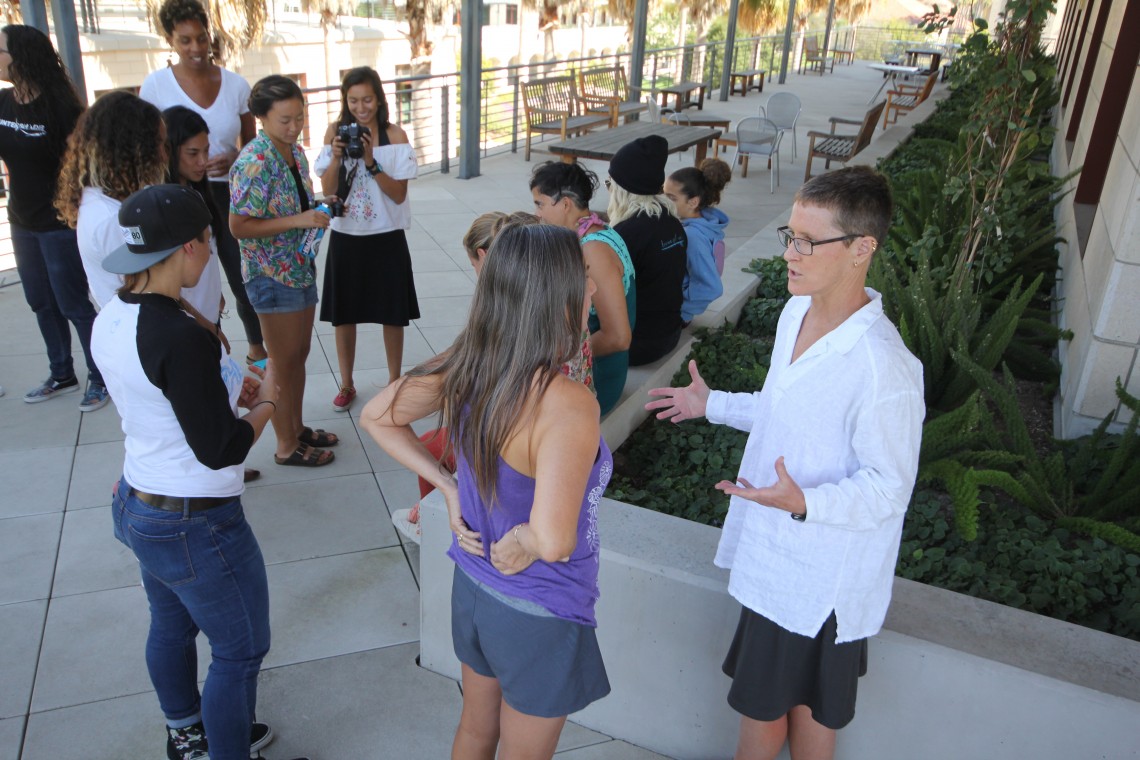 The incomparable big wave bodysurfer and geophysicist Judith Sheridan reflected on a lifetime of being Othered — someone always asked to explain herself.  Her talk was about claiming the monster ("hag" and "troll lady") mother figure of the Old English poem

Beowulf

and tying that claim for self to the tradition of the South Korean free-diving Haenyeo, photographed in their extraordinary beauty by Hyung S. Kim.   

For a look at her very creative talk:  see 

Grendel's Mother Was Here and GrendelsMotherWasHere (words).
Research Finding #2: Sharks, Straws & Water Knowledge
The water-reading skills needed to surf, and the long periods surfers spend in the water, teach surfers how to "read the book of the water" — as Stanford Professor Margaret Cohen demonstrated. As a subculture, surfing often educates next generations about environmental management, cultures of sharing, and public health. Surfers' knowledges as citizen-scientists, and trained scientists, link environmental, human, with marine worlds.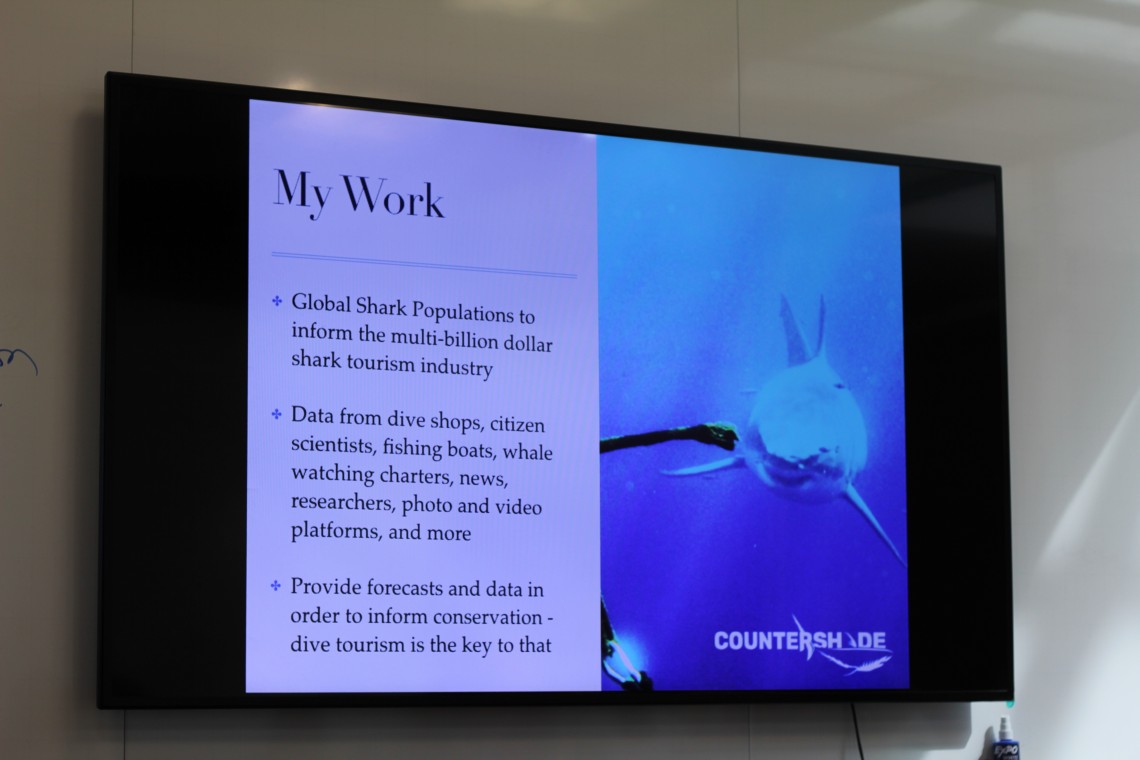 Sharks are big topics in surfing, and April DeLancey's work as a marine scientist and Shark Angel shows how badly new conversations are needed. Shark and whale bodies sequester, or filter, carbon, and aid efforts to slow climate change (sperm whales, for instance, sequester as much carbon as 694 acres of US forests). Hunting sharks for sport, and vilifying sharks in popular imagination, is misinformed, cruel, and ecologically foolhardy. Even when dead, shark bodies continue to filter carbon as they are eaten by other animals, keeping it in the food web. Don't remove sharks from the ocean!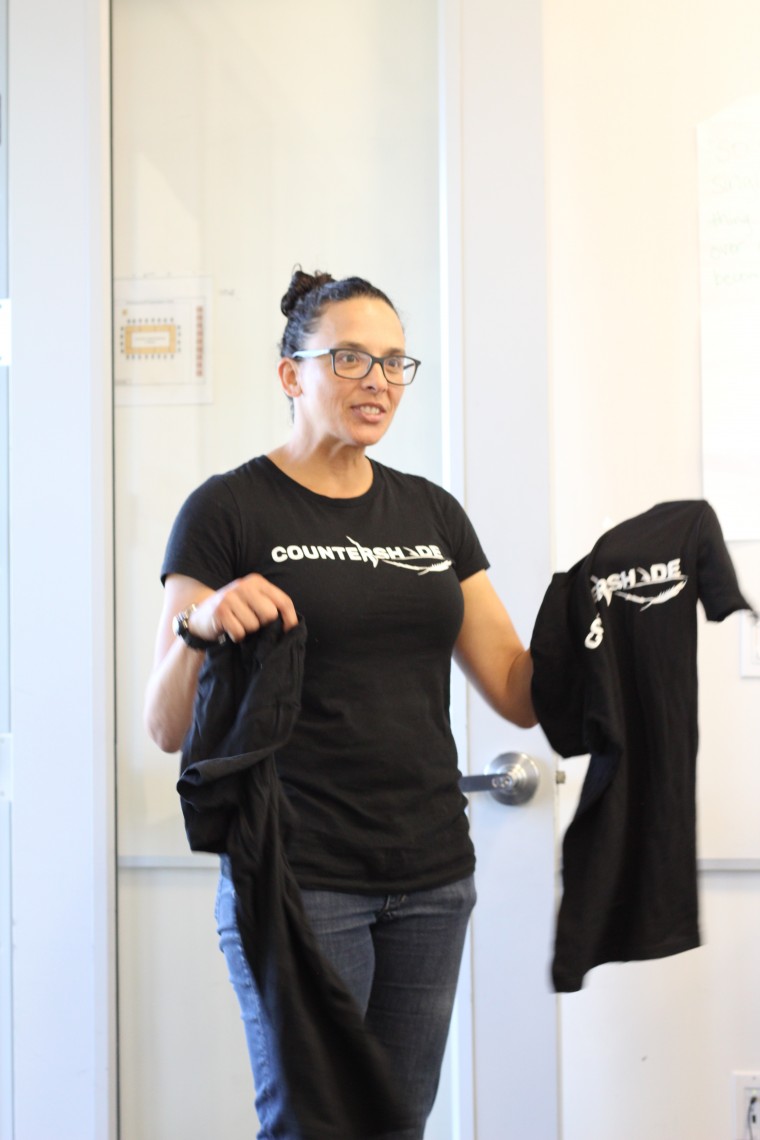 Plastic is forever, but straws are worse. They don't recycle. Even recycled properly, straws fragment into ever-smaller bits and wind up in the ocean, in marine bodies, and, when humans eat fish, in human bodies. Lynn Adams, President of the Pacifica Beach Coalition conducts awareness trainings. Pacifica Beach is so clean that Adams' organization now aids adjacent communities.
Deirdre Flanagan Martin, a Pacifica City Council member, teams up with Adams. Both of them encourage accessibility through making connections between the ocean and politics. Martin urges women to run for office, indicating her example of success. Martin's public servant philosophy puts local access issues for Pacifica residents at the forefront of her advocacy.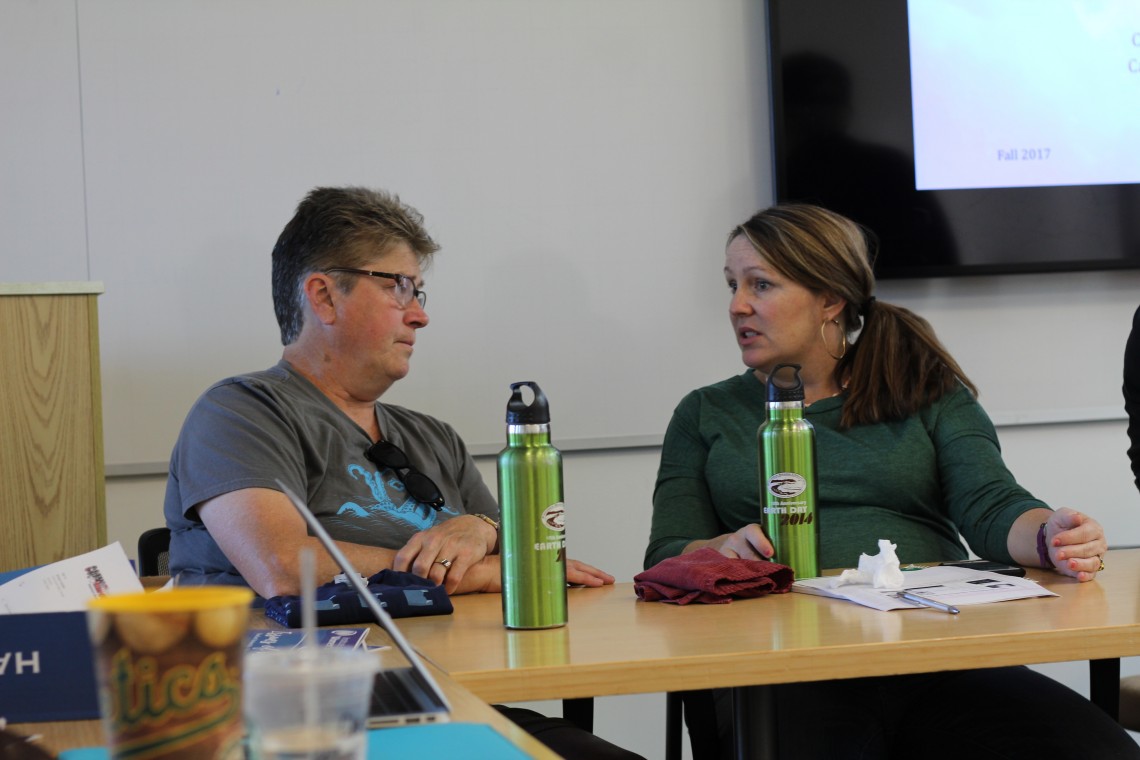 Research Finding #3: Importance of International Difference
Local laws and social conventions exist in relation to national policy and governmental norms. Even so, across national contexts and translocal geographies, patterns of intimidation related to race, indigeneity, gender, and sexuality are widely in evidence. The work of international scholars at the Institute showed the need to link geographic specificity to conceptualizations of accessibility. The 2017 research work leaned heavily toward California, where strong regulatory support from the California Coastal Commission contributes to legal contexts that value environmental justice and indigenous sovereignty. To what extent insights offered through California examples have wider application, however, requires more research.
To address the transformative potential for surfeminism that a more substantial international collaboration might achieve, discussions about two emergent chapters of the Institute are underway, an "Institute South," headquartered in Australia, and an "Institute Europe," headquartered in Cardiff, Wales.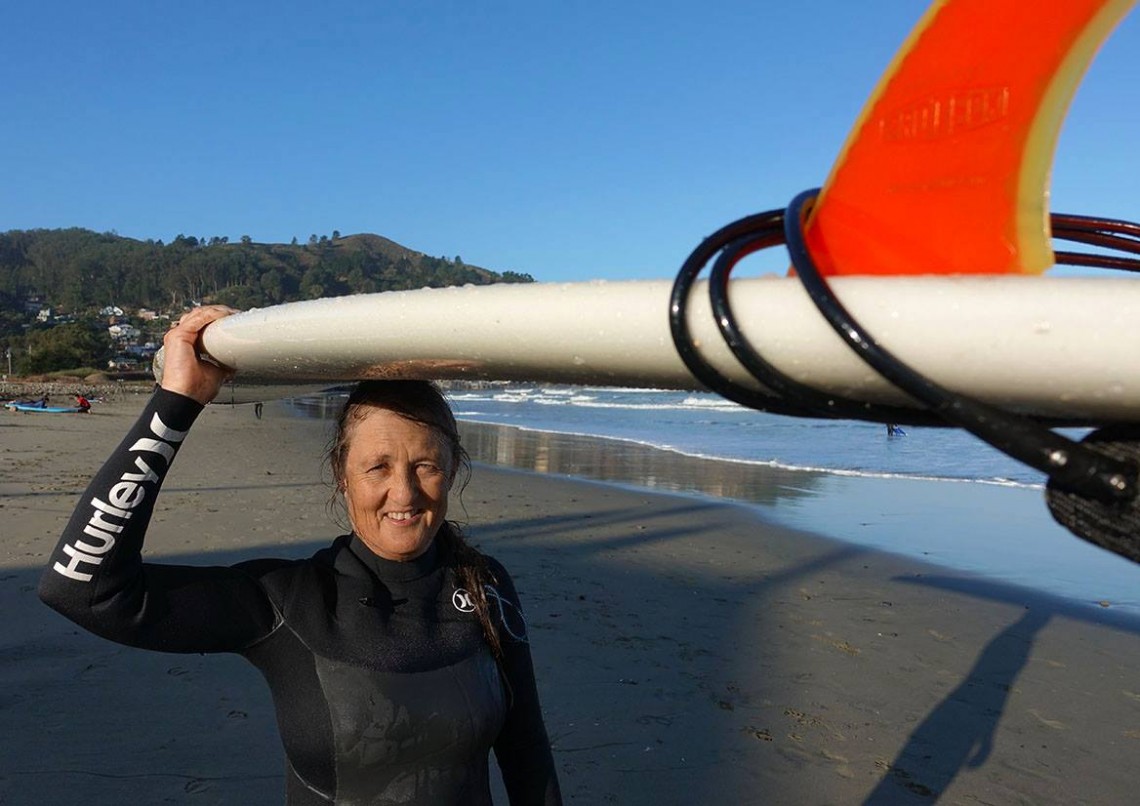 lisahunter traveled to the US from Aeotearoa/New Zealand to take first steps in founding an Institute South. Her presentation, "Southern Swells," about access issues in the Pacific, Oceania, and Australasia, emphasized critical-thinking skills and theoretical perspectives from the Global South. The goal was to teach surfers, whether educators or not, to analyze gender and sexuality in the cultural politics of surfing in Oceania, Australasia, and beyond. Experienced in collaboration, lisahunter co-organized the "Surfing Social" conference in Raglan in 2016, through the University of Waikato. The first Institute South meeting, tentatively co-sponsored in Australia by Monash University and Griffith University, is slated for winter of 2018.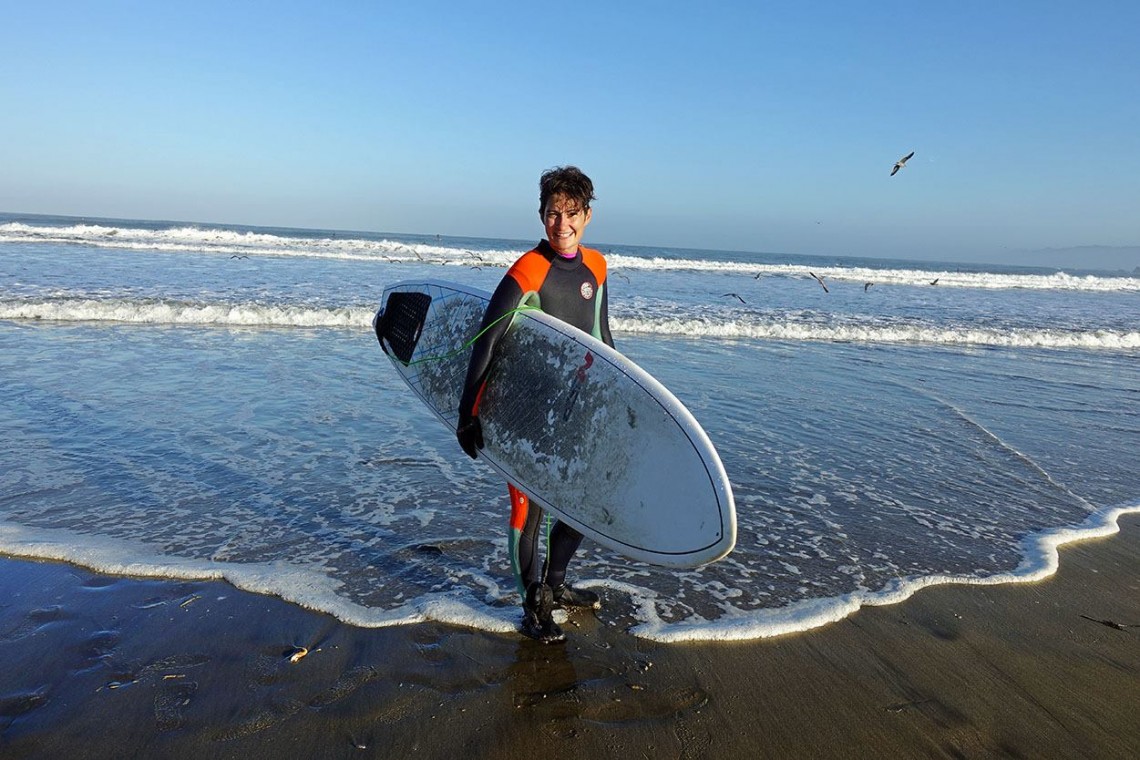 Lyndsey Stoodley traveled to the Institute as part of an international scoping trip (in Australia, New Zealand, and also Mexico) to present research on World Surfing Reserves, and the evolution of surfing as a social movement. Her graduate training centers on Sustainability, Planning and Environmental Policy, including on gender issues. Stoodley works with the Welsh feminist movement of "Surf Senioritas" — the name "senior-ita" was coined to make fun of Welsh male surfers who taunted women as being "too old to learn to surf." In cooperation with Danielle Robertson, a founder of Surf Senioritas, Stoodley is formulating plans for an "Institute Europe" centered in Wales.
Additional Appreciations
A project like the Institute is possible only through the collaborative efforts of lots of committed people giving generously of their time, skills, and goodwill. Final thanks are in order to Jamila Hubbard, of Brown Girl Surf, whose expansive thinking about the importance of imagination was central to conceiving the theme "Issues of Access;" to Dayla Soul, a Steering Committee member, filmmaker, and community-builder; Rebecca Sandidge, a fire ant biologist, Brown Girl Surf volunteer, and logistical coordinator of the 2017 meeting; Sachi Cunningham, big wave photographer whose footage of the event is being edited; and Jennifer Savage, California Policy Manager at Surfrider Foundation.
Final thanks are also gladly given to the Bill Lane Center for the American West for opening Stanford's spaces to a broad public, and to Rice University for financial support of research in the public humanities.