Collaborative Beginnings
Project Wahine participated in the inaugural Institute in 2014, and it became clear the two organizations should join collaborative forces.  Adapting for teens including college-age students the curriculum designed by Cori Schumacher and Krista Comer for the pilot 2014 Institute, Project Wahine offered the first program of its kind in 2014-15.   Over nine months (with Professor Comer on SKYPE from Houston), teens learned about:
the meanings of place, hands-on environmentalism, the complexities of storytelling, and girls' and women's history
using the IWS/Wahine curriculum for identity-building and to redefine the course of surfing
pilot successes create demand for another collaborative year, 2015-16
More on Wahine . . .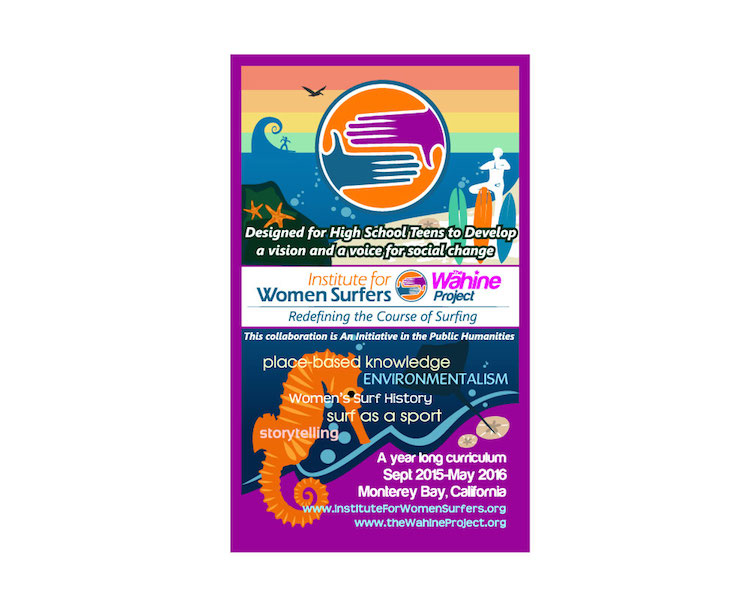 What is impressive about The Wahine Project and about Dionne Ybarra, its Founder, is the effort to create a curriculum out of the concept of "surf camps to empower women." Project Wahine offers a nine-month school year program that teaches girls to surf, while offering a larger vision of girls staying connected to girls, to themselves, and to learning about the places they come from. The "place" aspect is important because Dionne herself comes from East Salinas, a place that, in spite of being close to the beach, was an unlikely or "unsurfy" home base. Dionne had the foresight to imagine other "unlikely girls" might be interested and the stamina to see her vision through. Project Wahine's emphasis on diversity in the line-up, and on intergenerational nurture between women and girls of different ages, make it a strong fit with IWS principles of feminist sustainability.
Highlights from Pilot Year 2014-15  (Monterrey, California Municipal Wharf #2)