The Battle for Mavericks — Contexts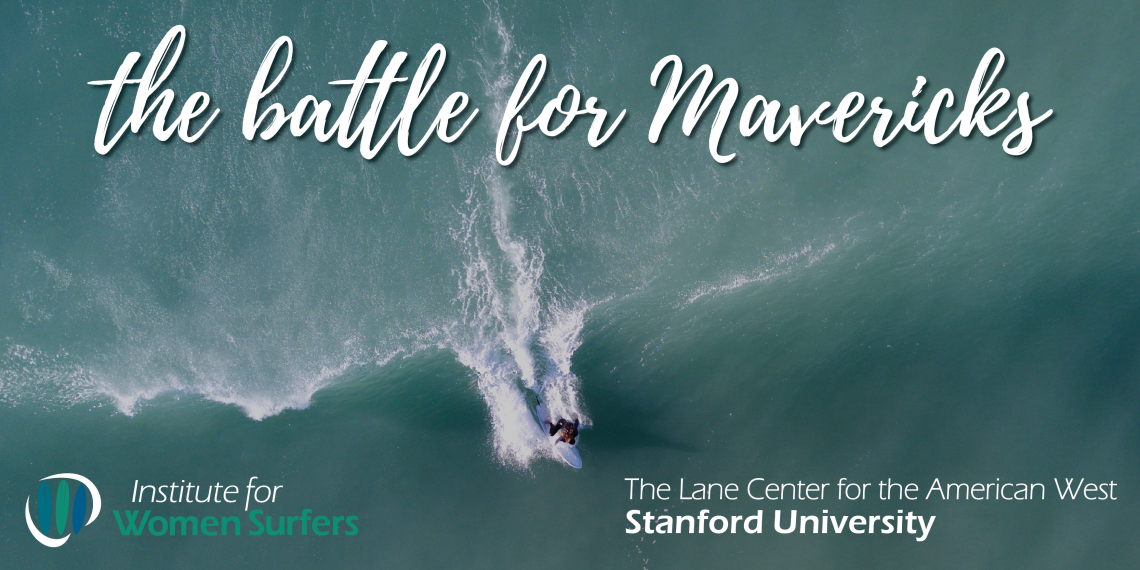 The purpose of Professor Comer's visit to Stanford's Lane Center for the American West is to conduct research that has grown out of the book Surfer Girls in the New World Order. The research relates to the activist work of the Committee for Equity in Women's Surfing (CEWS).  Professor Comer as well as various participants in the Institute for Women Surfers have been strong advocates of the CEWS; we stand behind its important and brave initiatives at Mavericks.
The Committee for Equity in Women's Surfing is a direct action political group founded in 2016 to contest the exclusion of women from one of the most respected big wave surfing events in the world — the legendary "Mavericks" in Half Moon Bay (near Stanford).   CEWS is made up of allied activists, artists and filmmakers, culture creators, surfers, elected officials, and legal/research advisors.  Throughout the summer and fall of 2016, participants from The Institute for Women Surfers were among those who devised the language and strategy of a public relations campaign, including a petition heard by the California Coastal Commission (CCC) in November. Representing their own activist organizations and cultural movements in the Bay Area (ie Brown Girl Surf, The Other Side of Surfing, It Ain't Pretty), as well as drawing from activist experience and histories in coastal politics throughout California, these activists showed the mettle and capacity of Institute members. Against a very aggressive opposition, they spoke at public hearings, contributed to letter writing campaigns, and persisted in public town hall discussions amidst intense disruptions and counterattacks.
Ultimately the CCC found in favor of the petition from the Committee for Equity in Women's Surfing and mandated that the competition at Mavericks include women surfers, setting the frame for women's access at last to the world renowned big wave event.   For many reasons which the research details, however, and to the chagrin of elite women surfers, the event did not take place last year and is stalled at present for this upcoming big wave season. In the aftermath of the victory, a vicious and lawbreaking backlash has targeted many of the activists, who have been scapegoated and harassed as the causes of the contest organizers' ills including their need to declare bankruptcy.
See YouTube below: Bianca Valenti & Sabrina Brennan, Leaders of Committee for Equity in Women's Surfing.
Research Questions
What does this gendered battle over Mavericks teach us about issues of authority, belonging, and "ownership" of public resources in the 21st century West?  What organizational entities (like the CCC) might offer novel direction or adjudication on the problem of civil rights, sharing common space?   What might be limits of the CCC's jurisdictions?
To address the above questions, the "Battle for Mavericks" research project brings a coalition of actors in feminist, women of color, indigenous, and queer-led projects to the Lane Center's research cluster in energy and environment.   The research gathers interviews of principals, public opinion surveys in the town of Half Moon Bay, as well as it synthesizes and expands upon the significant archive of brief-article journalistic reporting.  Because of the intensity of the impasse between parties in this small coastal town of Half Moon Bay, research is designed to generate emotional and political/intellectual responses related to women athletes, to issues of gender and sexuality in surfing, and to notions of belonging and legitimacy of access to coastal places and city public space.
The research will contribute valuable qualitative data to urban planners and elected officials about the impact of policies of the California Coastal Commission on issues of access particularly.  Women, gender, and sexuality are of course always-present vectors of power and of resource allocation in social life.  The Battle for Mavericks will do cultural "mappings" of more vulnerable populations as they engage everyday power matrices and cross paths in conflict with others as they go about accessing water places and spaces.  It will document the thinking and action plans of those who may be vulnerable but are nonetheless organized, talented, and have expertise about solving problems they know well.  As an engaged research endeavor, the Institute strives to do both traditional research but also to push the bounds of what it means to do research when research is linked to social change imperatives.  Research implications thus extend well beyond Mavericks and issues of access to methodological and theoretical models for socially engaged research paradigms, and a public and feminist humanities.
Bianca Valenti, Pro Big Wave Surfer, Sabrina Brennan, San Mateo County Harbor Commissioner